Our Careteam
Reid Kaski
Office Manager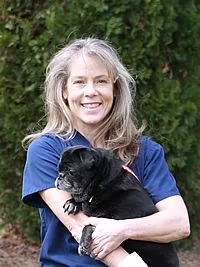 The wife of Dr. M.C. Kaski, Reid has worked alongside her husband for over 20 years. Her official title is that of Office Manager, but she does a bit of everything around the clinic: business administrator, accountant, receptionist, educator, and kennel manager only begin to cover her responsibilities!
Originally from New Hampshire, Reid's veterinary career started when she and her husband bought the hospital from its previous owner. At that time, it made sense for Reid to handle the clinic's financial responsibilities rather than hiring someone new. Over the years, Reid has grown right along with the hospital! She constantly strives to make sure the clinic doesn't fall prey to a "pick a number" mentality, and she particularly enjoys seeing a sick pet get better and working closely with loving pet owners.
When not attending to her duties around the hospital, Reid enjoys spending time with family, caring for her and her husband's pug, Marty, and dabbling in photography.
---
Torie Myrick
Vet Assistant
Torie Myrick joined our team June of 2017. Her passion is to help animals of all sizes and breeds. In the near future she wants to further her education in veterinary medicine. In her free time she enjoys fishing,kayaking and spending time with her fur baby's "Daisy Duke" and "Cc".
---
Audrey Shaw
Vet Assistant
Audrey Shaw has worked in the veterinary field for 3 years and is working to complete veterinary technician school. After raising her lab "Rocky" , animals became her passion in life. When not at work , she enjoys hiking and does at home pet care/ pet sitting.
---